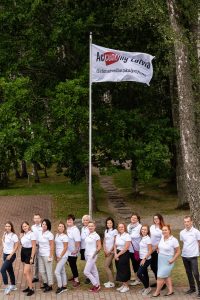 On august 22nd Accounting Latvia team have gathered at golf club "Reinis", Krimulda region, where the celebration of Accounting Latvia 15th anniversary took place. In honor of the company's anniversary was held a golf play and gala dinner.
Significantly that first employee hired in Accounting Latvia is still working in the company, and first client who signed a contract for accounting and bookkeeping services still chooses services of Accounting Latvia. During all the 15 years of work our main priority and value always were our customers with so many different activities who give us possibilities to search for new solutions and learn new skills on a daily basis, and our employees with their unique experience and knowledge, who all together build a strong, professional and well-grounded team.
Accounting Latvia expresses gratitude to everybody, who participated in organizing the event:  golf club "Reinis" president Valdis Liepins, golf club "Reinis" and "Cafe Reinis" administration and team, cake bakery Kukas Gardas, photographer Oskars Briedis, promotional agency Pro-Baltic and engraving and printing company Geka. And, of course, we express our biggest gratitude to our clients for their trust and our cooperation within all these years.
It is exciting, inspiring and intriguing to continue the journey together for the next at least 15 years!